ColgatePony234 is the creator of the (cancelled) Leila series. He never gets grounded. He likes to eat at restaurants. He now hates grounded videos/threats.
Name: ColgatePony234
Age: 15
Born: May 15 2000
Zodiac Sign: Bull
Gender: Male
Aliases: Live Benamore, Member 524 (on skype)
Voice: Eric/Simon (used to be Duncan but it sounds too old for a 13 year old, changes to Simon when angry)
Favorite Color: Blue, teal, purple, green, silver, gold, turquoise, magenta, cyan
Favorite Foods: Pizza, cheese, cookies, pasta, cakes, donuts, chicken wings, pancakes, quesadillas, sausages, restaurant food
Favorite Games: 3D Pinball, Solitaire, card games, Flow, Wii, New Super Mario Bros. 2, Wii U
Friends: Baxter, good users
Enemies: Leila, Warren, Memy9909 trolls, bad users, grounded videos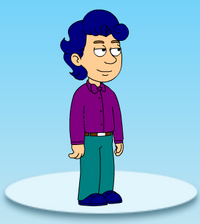 Ad blocker interference detected!
Wikia is a free-to-use site that makes money from advertising. We have a modified experience for viewers using ad blockers

Wikia is not accessible if you've made further modifications. Remove the custom ad blocker rule(s) and the page will load as expected.