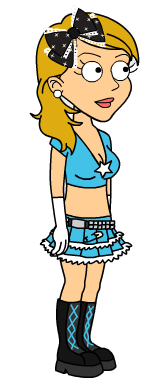 Lucy is a girl voiced by Princess, and she is the former girlfriend of Fox.
She is confirmed to appear in Lilly's Happy Days 2.
born:jan 1st 2000
age:14
Likes: Pizza, Video Games, YouTube, GoAnimate, Winodws XP, Gamecube, Wii U, Game Boy Advance, PS4, PS3, XBOX, XBOX 360, XBOX One, PS2, Dreamcast, Gameboy, Sega Genesis, Sega Saturn, Sega Game Gear, PSP, PS Vita, Coca Cola, 7 Up, My Little Pony Friendship is Magic, Littlest Pet Shop, Little Charmers, WinX Club, Disney Princess, Lalaloopsy, PAW Patrol, Dora & Friends, Scooby Doo, Star VS. the Forces of Evil, Matt Hatter Chronicles, Hot Wheels: Battle Force 5, United Airlines, Minecraft, Super Mario, Panty & Stocking.
Ad blocker interference detected!
Wikia is a free-to-use site that makes money from advertising. We have a modified experience for viewers using ad blockers

Wikia is not accessible if you've made further modifications. Remove the custom ad blocker rule(s) and the page will load as expected.