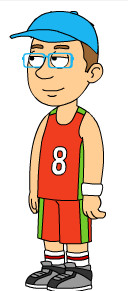 Luke V (also known as Luke51, SpongeBobLavaPants (on Roblox)) is a user.
he Left ROBLOX In May 2016 Cause he think it was boring
Info 
Date of Birth: May 21, 1991
Age: 24
Gender: Male
Voice: Paul
Likes and Dislikes
Likes: Adventure Time, Dane Nagley,Jacob Wilson (BrianNollerIsCutie),Disrespecting opinions,Stalking on people,Lying to people,Copying people's opinions,Regular Show,Eric Smith,David Smith, Som Sharma and good users
Dislikes: Paul C, Mean David Smith, Mark Shelton, Joshua Wilson, Zindren Abraham,Spencer White, Dora The Explorer,Brian Noller,Call of Duty,Minecraft,Morro,Justin Parker,Ninjago and bad users
Favorite shows/media: Adventure Time, Regular Show, Object Overload, Battle For Dream Island, Inanimate Insanity, Thomas And Friends, Kirby, Vocaloid, HiHi Puffy AmiYumi, Sonic, Pokemon, Mario, Spongebob Squarepants, Gravity Falls, The Amazing World of Gumball, The Simpsons, Family Guy, American Dad, The Cleveland Show, South Park, Phineas and Ferb, Mr. Peabody and Sherman, Five Nights at freddys, Candy Crush, Farm Heroes Saga, Supernatural, Angry Grandpa, AVGN Panty and Stocking, Angry German Kid, etc.
Least favorite shows/media: Caillou, Barney & Friends, Mike the Knight, Sid the science kid, Winx Club, Strawberry Shortcake, Tree fu Tom, all "Chica" programs on Sprout, Teletubbies, Peppa Pig, Harry and Toto, Bobinogs, Curious Buddies, Bob the Builder, Super Why, Postman Pat, Fireman Sam, Miss Spider's Sunny Patch Friends, Leapfrog Disney Princess, Mickey Mouse, Little People, Ben and Holly's Little Kingdom, Pocoyo, Higglytown Heroes, Little Einsteins, Charlie and Lola, The Shiny Show, etc.
Friends and Enemies
Friends: TommyFilmsPro, Adrianna, Andrew, Alex Kimble, Zack, Dylan, Emily, Taylor JoliCoeur, Mysia Smiles, TheJojuan4444, Eric Marcot, Becky, mrtyesvideos, Taylor the Hayniac, Good users, Brian Noller, Heroes Boombox, Kite, Masky, Coney, Tiki, Jaxen Ross, The ColossalD, Dylan Jacob, L Ryan, SouthParkSatanFan2015, Scott Needle, NathanDesignerBoy7, Eric Smith, Dane Nagley, and more
Enemies: Stephanie, Lucy, Amoosing, Warren Cook, Dora, Barney, Bad users, villains, Zara, Pedro, Edro, Pablo, Tyrone, Scootatoo, Strawberry Shortcake, Bloom, Candy, Lighter, Clock, Locky, Paulina, Ben Bowen, PowerJohn25 UTTP, Daniel Osborne, Luke Gartrell, Mr. Bag UTTP, Nerry Marin, GrandChase RealCook, MarioLeopoldSam, Kaworu Sakurada, Redfire1998, Paul C, David Smith, Dogenado, Tobakilacion and his fans, King Sonic Will Destroy You All, and more