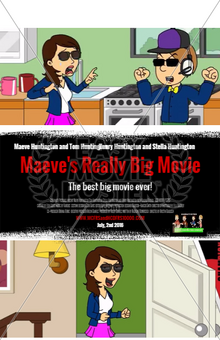 Maeve's Really Big Movie is a movie created by NintendoYes WeaponsNo. It's about Maeve's naughty tales. The movie is rated PG for mild language and little or no violence. This movie has been released on July, 2nd 2016 on YouTube and the creator has released it in theaters on July, 9th 2016. A remake is also made by NintendoYes WeaponsNo by the time FutureAnimate comes out.
Music
This is for the remake. The original film had no music.
Opening Credits-Crocodile Rock by Elton John
Maeve Gets Grounded for Trying to Marry Mark-Riptide by Vance Joy
Maeve Gets Plastic Surgery While Grounded-Saturday Night's Alright for Fighting by Elton John
Maeve Calls Her Mom Stinky Butt and Gets Grounded-Call Me by Blondie
Maeve Pranks Carley in the Shower/Grounded-Save Rock and Roll by Fall Out Boy ( featuring Elton John )
Chandler and Maeve Prank Call the Fire Department-Hey Brother by Avicii
Maeve Eats Tom's Birthday Cake and Gets Grounded-Touch Me by The Doors
Ending Credits-see Opening credits
Summary
Maeve wanted to cause trouble but she gets stopped by good users: Maeve tries to eat Tom's birthday cake but gets stopped by Tom and then tried to get plastic surgery but also gets stopped by her mom. She then gets grounded for all of the naughty things she has done.
Criticism
The remake has been criticized by users due to grounded scenes.
Ad blocker interference detected!
Wikia is a free-to-use site that makes money from advertising. We have a modified experience for viewers using ad blockers

Wikia is not accessible if you've made further modifications. Remove the custom ad blocker rule(s) and the page will load as expected.