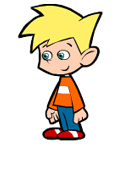 Matt is one of the GoAnimate characters in the Cartoon Classics and Business Friendly section.
He is Ann's older brother.
Voice: David
stand with (default)
scared
fat
sweats
Movements
Facial Expressions
angry
cry
happy
sad
shocked
massive shocked
neutral
surprised
talk
talk happy
talk sad
talk angry
chewing
default
GoAnimate Character Description
He's the blond little lovable rascal. He'll get into trouble but quickly get out of it with one flash of a smile.
Ad blocker interference detected!
Wikia is a free-to-use site that makes money from advertising. We have a modified experience for viewers using ad blockers

Wikia is not accessible if you've made further modifications. Remove the custom ad blocker rule(s) and the page will load as expected.