Monica is a Brazilian Comic Cartoon Character created by Mauricio de Sousa (b. October 27 1935) in 1963, which is based off of Sousa's daughter.
Monica is a 7 year old little girl who plays with her Plushie bunny, Samson. Her bunny is used as a Weapon against boys in Limoeiro Street (fictional area of Sao Paulo) including Cebolinha.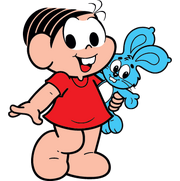 Initially, her Bunny doesn't have a name. Samson was suggested by Roberta Carpi in 1983.
Likes: Sora, Magali, Samson, Cebolinha gets grounded videos, Lottie dolls, SBT, Rede Globo, Sofia The First gets grounded, Mike The Knight gets grounded
Dislikes: Cebolinha, Disney Junior, Baby Shows, Mike The Knight, Sofia The First, being called Fatty.
Ad blocker interference detected!
Wikia is a free-to-use site that makes money from advertising. We have a modified experience for viewers using ad blockers

Wikia is not accessible if you've made further modifications. Remove the custom ad blocker rule(s) and the page will load as expected.