Nemo333m (Double Bonus, Nemo333mComedian1998/TheUltimateNemo333m, Nemo333m Sync, or Nemo333m98swell/PCWindowsFan1998) is a good user on YouTube who flags bad users for copyright infringement and gives them copyright strikes.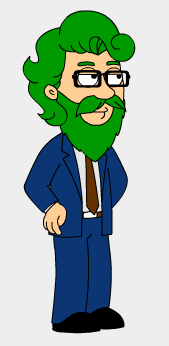 Name: Double Bonus
Age: 15
Day of Birth: December 10, 1998
Voice: Lawrence
Furious Voice(s): Elizabeth (Normal), Kidaroo (Angry), Wiseguy (Furious), and Scary Voice (When throwing a universal tantrum in anger and fury)
Fans and Haters
Friends: BondFan94, caroline0204, CalebComedian, TrigonometryComedian, Arvin21359, Erika Punkette, Andrew Beard, Darius Lordache, Louis Sylvester Animations Clock, DComedian13, Slippy V, TheMightyMac360, Trigonometry Lord, louielouie95, Joseph Selaty, Matt Crowley, qpcomedian3, Martin Davin, Paul Lamb, GoAniGrounded2, GoAniMonster, OfficeComedian1998, ThePreviewsGuy2012, Benjamin Nilsson, Jamiem2001 (Former Enemy), Troubled Go (MrSportVevo), MultiAdam43, Ecolercomedian99, TacoComedian, Kristin Konkle, Coulden Pettit, ToonamiFan7801(MrRyan5307) and LOTS LOTS More! 
Enemies: henryrules135135, THEBARNEYLOVERISBACK, LadyLovesTravel, AYBAYBAYDOG1, Sam Roviofan, Luke Gartrell, Tobakilacion, KaylaIsVeryUgly, THECOOKERIKA/Erika, ZAKREATERS, evil larry, Nathan Pearson, Ian McIntyre, Memy9909, Videogamenerd1000, Live Benamore, Likeplaneboy, Joe Traynor, and OTHER BAD USERS
Likes and Dislikes in his opinion
Likes: SpongeBob SquarePants, Family Guy, South Park, The Big Bang Theory, Total Drama Island/Action, iCarly, Phineas and Ferb, The Simpsons, My Little Pony: Friendship Is Magic, My Little Pony, My Little Pony: Equestria Girls, Guitar Hero, YouTube, Bandicam, GoAnimate, GoAnimate4schools, Grounded Videos, Flash, NaturalReader, Scary Movies, Job Sites, Money, Facebook, Google, Bing, When bad users get terminated due to copyright infringement, GoAnimate Movie, The Smurfs, Wreck It Ralph, Hotel Transylvania, A Nightmare on Elm Street, Sonic, McDonald's, Burger King, Wendy's, Arby's, Frisch's, Bob Evans, Golden Corral, Olive Garden, Chinese Food, 300, Hannibal, ROBLOX, Minecraft, Wiki, Wikipedia, Sports, King of the hill, Johnny Test, Regular Show, and other good stuff
Dislikes: Dora The Explorer, Barney, Super Why, Sid The Science Kid, Justin Bieber, Rebecca Black, Care Bears, Videos out of him in a bad way, Community Guidelines Strikes, Copyright Strikes, Getting Flagged, People Unsubscribing Him, Being Impersonated, Imposter accounts, School, Strict People. Angry People, His Teachers, His Principal, Criminal
Ad blocker interference detected!
Wikia is a free-to-use site that makes money from advertising. We have a modified experience for viewers using ad blockers

Wikia is not accessible if you've made further modifications. Remove the custom ad blocker rule(s) and the page will load as expected.