Nissa is a girl that taunted Neutron at school. Nissa doesn't like Sydney because she always wrecks her feelings, She was mentioned as a greek-american, She gets grounded alot by Sydney for no apparent reason.
She also is a big time troublemaker. Nissa disrespects a student in her named Vanessa. She called her misunderstandable just because she speaks british. She also stole a CD from the PC Store without paying for it and then she went to jail for 5 months. But her friends, Farley and Zachary rescued her out of jail. There is a part where Sydney extends Nissa's grounding time and sent back to jail as seen "Nissa Uses Windows 7".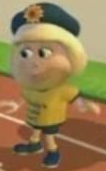 Notice: Her computer runs Windows 2000 because that OS is her favorite. Voiced by: Shy Girl, Ivy
About Herself
Favorite Game: School Shack 3D released on November 8, 2000 (Requires Windows NT 4.0, 98, 2000, ME) (Jewel Case compatible for Windows XP
Favorite TV Series: Jimmy Neutron, Rocket Power, Rugrats, Wild Thornberrys, Hey Arnold, Spongebob, Fairly Odd Parents, Aaahh! Real Monsters, Ren and Stimpy, Rocko's Modern Life, The Angry Beavers, CatDog, Invader Zim, Pelswick, ChalkZone, Doug (Nickelodeon Only), The Kid Friendly Show Show, etc.)
Favorite Food: Grilled Cheese, Cheese and Onion Chips, Pancakes and Bacon, Candy, Pizza, Ice Cream, Cheese Cake, Bread, Cookies, Pie
Favorite Drinks: Purple Flurp, Apple Juice, Chocolate Milk
Favorite TV Channels: Nicktoons, Nickelodeon, Food Network
Fact
Nissa is a Nicktoons fan.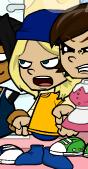 Parents
Elliot Kapadopolus (unknown)
Kaylee Kapadopolus (unknown)
Friends
Hannah
Davin
Gabrelle
Arnold
Ellie
Amber
Adam
Chloe
Kyle
Natalie
Amanda
Nicole
Nathan
Jennifer
Noah
Robert
Dylan
James
Olivia
John
Tyler 
Alyssa
Elizabeth
Nicholas
Tommy
etc.