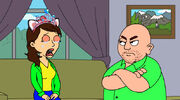 Paul Johnson
was the main antagonist of the official Adrianna series who is created by DavidComedian1991 and also is the main antagonist of the official Gianna series created by burnout team club. She is
Adrianna
's father who used to get in trouble a lot. But he lives in Illinois. As of 2013/2014, He no longer grounds Adrianna. Only Gianna and Adrian.
Information
Name: Paul Henry Thomas Johnson
Born: January 17, 1974 in St. Louis, Missouri
Age: 43
Voice: 
Paul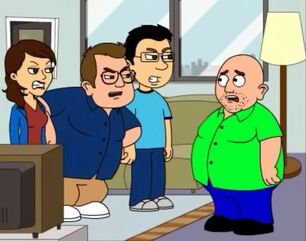 Trivia
In CocaColaComedian1999's videos, Paul Johnson is still one of the biggest troublemakers of all time when he grounded Adrianna. He killed Chucky Brock (born 1996; but not actually dead), Clarence Brock's (born 2000) older brother. Paul Johnson also got the VHS of Spirit: Stallion of the Cimarron from 2003, and Adrianna takes that VHS away.
Quotes
"That is it! I will throw beer at all three of you!"
"Get your face away from me you mean and strict Fat Edward!"