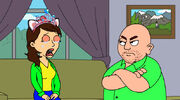 Paul Johnson
is
Adrianna
's father who used to get in trouble a lot. But he lives in Illinois. He no longer grounds Adrianna. Only Gianna and Adrian.
Information
Name: Paul Henry Thomas Johnson
Born: January 17, 1974 in Detroit, Michigan
Age: 43
Voice: 
Paul
Trivia
In CocaColaComedian1999's videos, Paul Johnson is still one of the biggest troublemakers of all time when he grounded Adrianna. He killed Chucky Brock (born 1996; but not actually dead), Clarence Brock's (born 2000) older brother. Paul Johnson also got the VHS of Spirit: Stallion of the Cimarron from 2003, and Adrianna takes that VHS away.
Quotes
"That is it! I will throw beer at all three of you!"
"Get your face away from me you mean and strict Fat Edward!"
Ad blocker interference detected!
Wikia is a free-to-use site that makes money from advertising. We have a modified experience for viewers using ad blockers

Wikia is not accessible if you've made further modifications. Remove the custom ad blocker rule(s) and the page will load as expected.