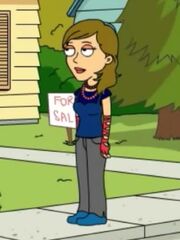 Paulina is the main protagonist of the Paulina series. She was created by Michael Laurea (JangoF2001).
Information
Full Name: Paulina Cucchiella
Age: 19 (some versions)
Date of Birth: September 25, 1996 (Seattle, Washington) November 3, 2003 (Linus Weber) (Seattle, Washington) November 5, 2005 (KristinaCollinsYes KatieNo2004) (Seattle, Washington)
Favorite Color: Green, Black, Yellow
Favorite Food: McDonald's, Burger King, Wendy's, Pizza Hut, Taco Bell, Crackers, Potato Chips
Favorite Movies: Uptown Girls, Free Willy, Nanny McPhee, Despicable Me, The Smurfs
Favorite TV Shows: Spongebob Squarepants, Hannah Montana, Rocko's Modern Life, My Little Pony: Friendship Is Magic, The Simpsons, Family Guy, American Dad, South Park
Likes: McDonald's, Uptown Girls, Spongebob Squarepants
Dislikes: Barney, Dora The Explorer, Sesame Street, Gullah Gullah Island, Rubbadubbers
Voice: Princess
Family:
Diesel Cucchiella (dad)
Kendra Cucchiella (mom)
David Cucchiella (Brother)
Paul Cucchiella (Brother)
Brunette Cucchiella (Sister)
John Cucchiella (grandfather)
her boyfriend
her best friend
Juliana (daughter)
Matt Crowley Cucchiella (paternal uncle)
Sugar Bunny Cucchiella (paternal aunt)
Brian Cucchiella (older cousin 19 year old)
Clara Cucchiella (middle cousin 13 year old)
Lilly Cucchiella (younger cousin 4 year old)
Shannon Butler (maternal aunt)
Carol Butler (maternal grandmother)
Typher Cucchiella (Brother)
Kumi Cucchiella (Brother)
Ralph Cucchiella (Brother)
Norwegian Name: Laura
Danish Name: Lisa
Trivia
She's A Blue Version Of "Zara"
She's The First Different Colored Version Of "Zara" Ever
LouieLouie95 Was The 1st Ever User To Make A Grounded Series On Paulina After She Got Plastic Surgery
Followed By DavidComedian1991