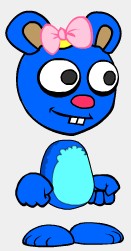 Petunia was a bright blue skunk.
Likes: Childish shows, PB&J Otter, Sid the Science Kid, The Koala Brothers, Barney, Oswald, Pinky Dinky Doo, Little Bear, Franklin, etc.
Dislikes: Good users, South Park, Family Guy, Transformers, Sanjay and Craig, The Simpsons, American Dad, TUFF Puppy, Caillou, Little Bill, and other good stuff.
Voiced by: Ivy and Kayla.
Ad blocker interference detected!
Wikia is a free-to-use site that makes money from advertising. We have a modified experience for viewers using ad blockers

Wikia is not accessible if you've made further modifications. Remove the custom ad blocker rule(s) and the page will load as expected.