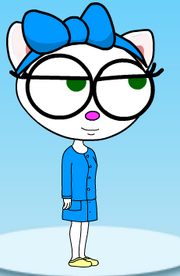 Polly
is a white female cat who always getting in trouble at school and home. She only have one brother named max. polly only have a one friend named erin, a tomboy catgirl
Bio
Name: Polly Cat
Age: 7/14/18/21
Hometown: Valleyport
School; valleyport elementary school, valleyport high school. but later, she was in college
Friends: Erin Pig, Lexi Bear, Millie Pig, Matthew Bear, Jack Bird, John Hedgehog, Charlie Panda, Stella Unicorn, Lucas Dinosaur
Enemies: Lexi (she is used to be jealous of her because of her look and popularness. polly doesn't like her very much at first time), jack the roommates (she finds him annoying), henry(she was upset because he dumped her for another girl)
Voice: Shy girl, princess, Julie(final episodes)
Family: Isabelle Cat (formerly mother)
William Cat (formerly father)
Max( formerly little brother)
Jessica(adoptive mother/best friend)
Dave(adoptive father)

Callie(adoptive sister)
Abby(adoptive sister)
Joshua(adoptive brother)
ashercomedian2001(formerly roommate) nickcomedian1997(formerly roommate) Jack the room mate(formerly roommate)            
Looks
Polly wears blue hairbow, blue dress, yellow shoes. in her Sleep wear she wears pink pajamas shirt and pajamas pants with white slippers. as a teenager she wears white shirt with purple trims and purple shirt even bright yellow shoes, purple hairbow that matches her outfit.
Trivia
Polly is never seen without her hairbow. it only shown when she wears pajamas clothes.
Ad blocker interference detected!
Wikia is a free-to-use site that makes money from advertising. We have a modified experience for viewers using ad blockers

Wikia is not accessible if you've made further modifications. Remove the custom ad blocker rule(s) and the page will load as expected.