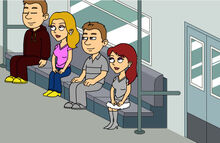 "You cannot just say foul language!"
-Pterano, Rinkus and Sierra Uses Coarse Language in Class
Pterano is a former villian that isn't as bad as Rinkus and Sierra. He decided to not like what they do and now he is good.
Appearance:
He is another version of Red Hoodie Guy but except in his old look he had a blue jewel on his ear while his current look doesn't.
Movie Appearance:
Canon:
The Land Before Time 7: The Stone of Cold Fire ( debut )
Fanon:
Chomper 007: Firestorm ( 1994 film ) ( debut )
Hyp's Really Big Movie ( 1995 film )
Cracktastic: The Movie ( 1994 ) ( non-speaking cameo )
MTBA ( More to be added )
More info:
Name: Pterano
Age: Unknown but he is probably around 23 or 24 being an uncle
Relatives:
Mama Flyer ( Sister )
Petrie ( Nephew )
Zeta ( Niece )
John ( Nephew )
Voice: Very often in speech bubbles in GoAnimate
Likes: When good things happen
Dislikes: When unlucky things happen to his sister, bad things
Gallery:
Trivia:
He is very familiar to Leila as Leila turned good in 2016.