The Retro Van is a 1980-90s styled van.
about
Built by:Unkown
Owner: The eds
Capacity: 6 seats
Speed: 120 KM/H or 75 MPH
Weight: 2300 Kilograms
Drivetrain: All Wheel Drive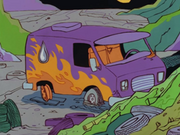 Design
The Van is based on a few models of the 1970's Dodge Vans, mostly reassembling the first generation Dodge Ram Van.
Ad blocker interference detected!
Wikia is a free-to-use site that makes money from advertising. We have a modified experience for viewers using ad blockers

Wikia is not accessible if you've made further modifications. Remove the custom ad blocker rule(s) and the page will load as expected.