Ronald McDonald (better known as the P-P-P-Penis Clown)is the mascot and CEO of the fast food chain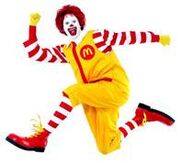 McDonald's (aka McDickalds in Drewland) and one of the founding members of The Barney Bunch along with Barney,Drew Pickles, Astro Boy,and his older brother Dick the clown. Ronald is described as an insane psychopath by his friends, but he is usally good natured. He came up with "Ran Ran Ruu" in Japan, and it soon became a popular meme there. He is also gay.
Early Life
Ronald Tadeusz McDonald was born on September 6, 1950 to a poor Polish mother and a bisexual murderous father. He soon became the mascot of the fast food chain McDonald's in 1963 after Speedee(the former McDonald's mascot)quit after being the mascot for ten years. Ronald was only 18 at the time when got the job, but he did well and McDonald's got more customers From time to time. Over the years, he went through many redisigns and got more and more creepy. Due to Ronald being gay, he would sometimes rape the Ham Burglar and Mayor McCheese in a closet when he was at home. During Ronald's time as the mascot of McDonald's.
Later Years
In 2002, All McDonalds Resturaunts in Howardville (now Pandaland) were closed and demolished. Most of them are now Pizza Hut locations
In Logorama
Ronald played as the main villain in the short film Logorama in 2009. During the the film, he was first seen getting gas for his delivery truck at a gas station before being chased by the Michelin Men cops across Los Angles. The chase continuse until Ronald crashes in front of Pizza Hut.
Ad blocker interference detected!
Wikia is a free-to-use site that makes money from advertising. We have a modified experience for viewers using ad blockers

Wikia is not accessible if you've made further modifications. Remove the custom ad blocker rule(s) and the page will load as expected.