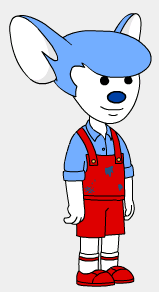 Roobear was a bright blue koala. He was six years old.
Voiced by: Kimberly.
Likes: Strawberry Shortcake's Berry Bitty Adventures, Strawberry Shortcake 2003 show, Care Bears Welcome To Care A Lot, Nellie The Elephant, Animal Jam, Pappyland, Inspector Gadget's Field Trip, and many other shows which are made by Discovery Family, Discovery Kids, and Dic Kids Network.
Dislikes: Moe and Joe, Warren Cook, and SallyJones1998.
Ad blocker interference detected!
Wikia is a free-to-use site that makes money from advertising. We have a modified experience for viewers using ad blockers

Wikia is not accessible if you've made further modifications. Remove the custom ad blocker rule(s) and the page will load as expected.