Rosie Kills the Angry Birds/Grounded is an upcoming TV episode of American series, Rosie Gets Grounded. It will be uploaded by Ronit Amin.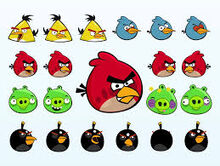 Plot
The Angry Birds, Red, Blue, Chuck, Bomb, Matilda, Boomerang, Mighty Eagle, Stella, Eva the Birthday Mom, & Leonard are laying their eggs in a nest. Rosie then gets out Pokemon balls to kill the angry birds by beating them up, throwing explosives, racing through them, blowing them up, pooping on them, swinging around them, busting them, popping their bubbles, childbirth, & COPD. These are the weapons Rosie uses ultimate weapons against the Angry Birds. The 3 angry birds are alive and call Boris to ground Rosie.
Cast
Eric: Boris
Shy Girl: Rosie
Joey: Red
Ivy: Blue
Justin: Chuck
Scary Voice: Bomb
Kimberly: Matilda
Daniel: Boomerang
Paul: Mighty Eagle
Emma: Eva the Birthday Mom
Kendra: Stella
Chipmunk: Leonard
Ad blocker interference detected!
Wikia is a free-to-use site that makes money from advertising. We have a modified experience for viewers using ad blockers

Wikia is not accessible if you've made further modifications. Remove the custom ad blocker rule(s) and the page will load as expected.