Sabrina is a character of goanimate made by trinity hayes. she's a tall girl and wears pink t shirt with bright pink lines, khaki pants, white shoes, black glasses. she has boyfriend named devin. Sabrina always getting in trouble at her school and home.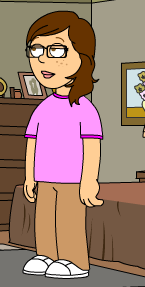 Name: Sabrina
Age: 15-23(end of the grounded series)
Grade: 9th
Hometown: Australia
Moved to: United States
Nationally: Australian-american
Birthday: January 20th, 1999
Hair color: brown
Eye Color: brown
Height: 6'5/5'4(BondFan2000's version)
Boyfriend: Devin
Voice: grace
Signature color: Magenta
Likes: Girl shows include Sabrina the teenager witch, my little pony, that's so raven, Barbie, totally spies, sailor moon, Tokyo mew mew, bratz, monster highs, dora the explorer, icarly, wizard of waverly place, high school musical, Phineas and ferb, kim possible, tinkerbell and friends, little mermaid, Disney princesses, hello kitty.
Dislike: boys shows, getting grounded,
Family: Susan(mother)
       Alan(father)
       
       Bridgette(older sister)


Note: in BondFan2000's version. she have blonde hair, light blue shirt with red shirt under it. pink skirt with black fishnet pantyhose, white high heel boot shoes. she's not tall.

End of final grounded series Sabrina's hair was cut to the short she wears purple turtleneck, wears bright pink pants, white shoes
Ad blocker interference detected!
Wikia is a free-to-use site that makes money from advertising. We have a modified experience for viewers using ad blockers

Wikia is not accessible if you've made further modifications. Remove the custom ad blocker rule(s) and the page will load as expected.