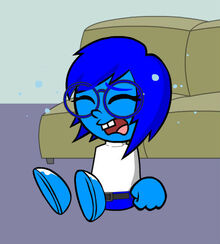 Sadness is a cute character from disney pixar film inside out
She intends to cry a lot and allows her friends to do things for her.
Friends: Joy Disgust Anger Fear
Liked: Toy story a bugs life monsters inc finding nemo cars wall-e up
Disliked: Ratatoing Wings Antz Caillou
Born: October 15 2000
Voiced by: Kate
Age: 15
Signature colors: Blue
Ad blocker interference detected!
Wikia is a free-to-use site that makes money from advertising. We have a modified experience for viewers using ad blockers

Wikia is not accessible if you've made further modifications. Remove the custom ad blocker rule(s) and the page will load as expected.