Sally Jones is a bad user who hates Dean Ambrose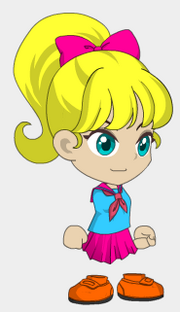 SallyJones1998 was a bad user. She likes to edit PB&Jotterisnumber1's pages, steals Kate Ashby characters without its creator's permission making grounded videos out of Jazzi and Noodle, and she likes childish shows.
Born: August 10, 1998
Age: 18
Voiced by: Julie/Kayla
Likes: Mickey Mouse Clubhouse, The Book Of Pooh, My Friends Tigger And Pooh, Dora And Friends, Go Diego Go, PB&J Otter, Rolie Polie Olie, Bear In The Big Blue House, 

The Bubble Guppies, Team Umizoomi, Franklin, Mike the Knight, Barney And Friends

, 

Maple Town, The New Adventures of the Little Koala, 

ice cream, pizza, candy, soda, juice, fruit snacks, Mcdonalds, Hardees, Taco Bell, Subway, Arbys, KFC, Augustin Burger, and making transcripts out of Sophie, Peanut, Jelly, Baby Butter, Jazzi and Noodle being grounded.
Dislikes: 

Family Guy, South Park, 

The Simpsons, Beavis and Butthead, 

The Brand New Adventures Of Old Christine, 

Full House, Step by Step, Family Matters, Perfect Strangers, Family Ties, 

American Dad, 

King of the Hill, 

Hey Arnold, The Angry Beavers, 

Timon and Pumbaa, Jungle Cubs, Pepper Ann, Teacher's Pet, Lizzie McGuire, The Proud Family, Teamo Supremo, Kim Possible, House of Mouse, The Buzz on Maggie, The Replacements, Tekken: Blood Vengeance 3D, Phineas and Ferb, 

The Wild Thornberrys, 

Rocket Power, Foofur, Garfield and Friends, The Garfield Show, As Told By Ginger, 

Batman 60s show, and some gross food and drinks.
Ad blocker interference detected!
Wikia is a free-to-use site that makes money from advertising. We have a modified experience for viewers using ad blockers

Wikia is not accessible if you've made further modifications. Remove the custom ad blocker rule(s) and the page will load as expected.