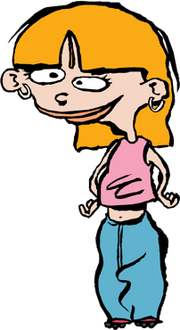 Sarah is Ed's younger sister.
Note: She is the youngest. 
About
Born: January 1, 2009 
Age: 7
Likes: Jimmy, Edd
Type: Troublemaker
Dislikes: School, GoAnimate, Ed
Voices: Ivy (GoAnimate) and Janyse Jaud (Cartoon Network)
Life and History
When Ed was 12 years old, Sarah was been adopted by his mother when she was just a 1 year old.
Ad blocker interference detected!
Wikia is a free-to-use site that makes money from advertising. We have a modified experience for viewers using ad blockers

Wikia is not accessible if you've made further modifications. Remove the custom ad blocker rule(s) and the page will load as expected.