Sharon, Lois & Bram (also known as Sharon, Bram & Friends or Sharon & Bram) was a Canadian children's musical trio comprising Sharon (Trostin) Hampson, Lois Ada (Goldberg) Lilienstein, and Bramwell "Bram" Morrison that formed in 1978, in Toronto, Canada.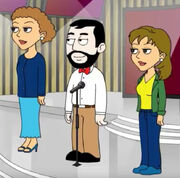 Sharon Hampson
Born
March 31, 1943 (age 72)


Toronto, Ontario
Lois Lilienstein
Born
July 10, 1936


Chicago, Illinois

Died
April 22, 2015 (aged 78)


Toronto, Ontario
Voices
Bramwell "Bram" Morrison
Born
December 18, 1940 (age 75)


Toronto, Ontario
Sharon Hampson
Voiced by: Kate
Lois Lilienstein
Voiced by: Julie
Bram Morrison
Voiced by: Duncan
Ad blocker interference detected!
Wikia is a free-to-use site that makes money from advertising. We have a modified experience for viewers using ad blockers

Wikia is not accessible if you've made further modifications. Remove the custom ad blocker rule(s) and the page will load as expected.