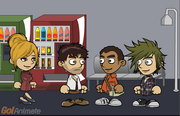 Shortstop is an animation created by Rjbear178 Productions (now Toonline Original Productions) and distributed by Viacom International. The series was originaly aired on Richard Channel (now Toonline Network).

Here is a list of episodes
Season 1: 2011
Season 1 consisted of 10 episodes, as ordered from Richard Channel. Richard Channel did not renew the series for a second season.
| Episode # | Episode Title | Driected by | Richard Channel Air Date | Toonline Network Revival Date |
| --- | --- | --- | --- | --- |
| 1 | "Soda Time!" | Rjbear178 | March 25, 2011 | July 10, 2012 |
| 2 | "Montana News" | Rjbear178 | March 26, 2011 | July 11, 2012 |
| 3 | "Bathroom" | Floyd | March 27, 2011 | August 1, 2012 |
| 4 | "Special Name" | Rjbear178 | April 3, 2011 | August 1, 2012 |
| 5 | "Stupid" | Rjbear178 | Aprill 10, 2011 | August 1, 2012 |
| 6 | "Stranded" | Rjbear178 | April 24, 2011 | August 1, 2012 |
| 7 | "Treasure" | Rjbear178 | May 1, 2011 | August 1, 2012 |
| 8 | "Bathroom 2" | Floyd | May 12, 2011 | August 1, 2012 |
| 9 | "Dog or Rat" | Rjbear178 | May 19, 2011 | August 1, 2012 |
| 10 | "Final Episode Special" | Rjbear178 | May 26, 2011 | August 1, 2012 |