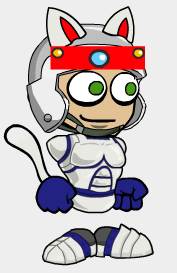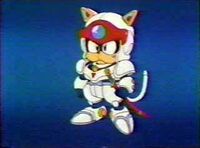 Speedy Cerviche was a white robot cat. He was the leader of the Pizza Cats.
Voiced by: Eric.
Likes: Polly Esther, Lucille, Pizza, Teenage Mutant Ninja Turtles (1987), Teenage Mutant Ninja Turtles (2003), Power Rangers, Anime, Dragon Ball Z, Naruto, Marvel, DC, Gree, Tiny Toon Adventures, Cyborg Kuro-chan.
Dislikes: The Big Cheese, Jerry Atric, The Ninja Crows, 4kids, getting grounded, hackers such as UTUBETROLLPOLICE, Dora the Explorer, Bob the Builder, Caillou, Barney.