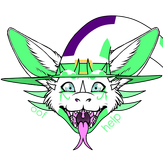 Sporx The Dutch Angel Dragon also Sporx Nightcall or Sporx  The Dutchie or SporxTheAngelDragon20000 else as Spyro-Cheong, who doesn't as known, who he's it, Sporx is a dutchie "That's as I said, you guys are from"
Information
Name: Sporx Nightcall
Species: Dutch Angel Dragon
Age: 17 years old
Birthday: Nov 10
Country: Malaysia
Speaks: English, Korean, Japanese, Malay/Indonesia, A.D/D.A.D Tongue (idk), Random language
Sounds: Chirping, Squeak, Purring, Panting
Gender: Genderless (He/him or She/her)
Voice: N/A (Only GoAnimate/GoAnimate For School), Himself (He thinking about his voice like a woman)
Sporx had his tail is long
Sporx had the pupils is round with smaller
Colors
Color iris:Cyan-blue
Color eye: Plain-green
Mouth color:Pink-light
Tongue shape: Forked
Blood color: Dark-red
Furs color: White
Hat color: White/Pale-green/Purple
Friends
Friends of Dutchies: Crimson, Mountaintop, Hazard, Daiko
Best friends of Dutchies: Nameless
Likes/Dislike
Likes: Dragons, Cats, Birds, Chocolate Cakes, Begin a cute, New friends
Dislikes: Begin a lonely
Account:
Youtube: https://www.youtube.com/channel/UCytWiuSpZgJhHTF9r_kaakA Old Youtube: https://www.youtube.com/channel/UC5K5kCbA1_EUBeQ8K5ngoyQFacebook: https://www.facebook.com/Sporx.Teh.DragonSteam: http://steamcommunity.com/id/SqueakSporx/Deviantart: https://spyrocheonghachiku.deviantart.comWeasyl: https://www.weasyl.com/~sporxtheangeldragon20000
Twitter: https://twitter.com/SporxDragon
Quotes:
*Chirp! *Chirp!* *Chirp!*
Hooba Dooba!
Oh no, please no.
Whatcha doing? *Chirp?*
Yip! (Yes!)
Na. (No.)
What do you mean?
Oh! I almost forgot.
What's wrong, bro?
Damn, I-I-I am not trying anymore...Just a misunderstanding.
Nickname:
Sporx, Little-creature fluffy, Sporks, Orbit, White-Dragon-Feather
Wearing:
His hat with a Wide Pale-green Brim, Pale-green Band, Long pointed and Golden Buckle
Evolutions of design
Other artists