I'm closing your YouTube account!

Star Trek IV: The New Frontier was cancelled. The reason why GoAnipedia cancelled the page it's because favor of the newer episodes of the original creator's Zack series. If it continues, don't cry by the way! We will inform you as soon as possible.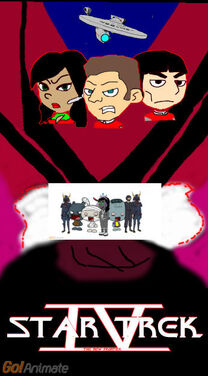 Star Trek IV: The New Frontier is a proposed 2014 fan-made GoAnimated science fiction film. It was meant the fourth animated feature based on the GoAnimate Star Trek Franchise FunEditor4 created back in 2012. The film was to be directed by Trekker Pro, who was also directing the 3rd GoAnimate film and several other Star Trek motion pictures that never came to be. It was expected to be completed in December, a few days before it can even come out, but it was later cancelled
Cast
​TBA
Production
Development
When Star Trek V: The Final Frontier came out in 1989, it became a box office failure and had a poor reception from critics and audiences. Because of that, it was up for Trekker Pro to retell Star Trek V, but put it in a very different way. He started to use anything he saw in his past and base some scenes of the movie on true events (ex. the Wonderland prom he went to in April 26th). Without any script, he decided to base the film on The Final Frontier. He has been rushing himself to get it done on the near end of the school year (2013-2014), but attempts made him fail himself due to distractions. So he decided to release the film on December 25th, making it the 1st Star Trek fan film to hit such a release date on a holiday. He was then on the run when the release date was scheduled.
Filming
Filming took place on May 18th, hoping that Trekker Pro will hopefully finish the film at the end of the month, but when he had a feeling that filming will take too long, this was a time when he changed the release date to December 25th, marking the same day when Into The Woods, a Walt Disney live-action film, comes out.
Cancellation
The film was cancelled in favor of the newer episodes of the original creator's Zack series. The FunEditor4 has never watched The NeverEnding Story or even read it in a long time.