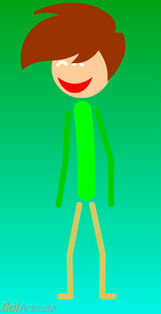 Steve is the main antagonist of KyGuyAnimationStudios' 2nd Go!Animate series The Blue's Clues Comedy Show as well as his Steve Gets Grounded series.
Info
Gender: Male
Born: October 9, 1995
Age: 19
Voice: Steven
School: Go!Animate City High School
Family: Joe (brother), James (stepbrother), Blue (dog and sister)
First Appearance: The Wiggles Comedy Show Episode 3: The Wiggles Meet Steve And Joe
Last Appearance: N/A
Likes: Pranking people, bananas, his car, hanging out with Fred and Kwazii, the color green, playing GTA or COD on the XBox, watching football, bands not from the 1960's
Dislikes: Getting grounded, whenever his pranks fail, whenever his car gets wrecked, whenever Kwazii messes stuff up, any color besides green (except red and blue), bands from the 1960's
Favorite TV Shows: The Simpsons, Spongebob Squarepants, TMNT, TUFF Puppy, anything else fit for teenagers
Least Favorite TV Shows: Seinfeld, anything else that is not fit for teenagers or just what he calls 'stupid'
Description
He is a 19-year-old troublemaker based off the actor Steven Burns. He wears a green striped shirt, tan pants, and brown shoes. He has brown hair, brown eyes, and is 19 years old. Coincidentally, he was born on the same day as English musicians John Lennon of The Beatles and John Entwistle of The Who. He gets grounded in every episode of the Steve Gets Grounded series. He likes to prank people, his favorite food is bananas, he likes the color green, and he drives a 1969 station wagon.
Ad blocker interference detected!
Wikia is a free-to-use site that makes money from advertising. We have a modified experience for viewers using ad blockers

Wikia is not accessible if you've made further modifications. Remove the custom ad blocker rule(s) and the page will load as expected.