The Dionisio Family is a fake show of all time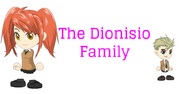 Plot
It's about one family dream takes real life on a true story. It was based on a true story.
Characters
Claire
Just your real lady who is being with the family of the Dionisios. She was a straight lady (not so bisexual) who married a gay man who works at the office, Michael. She even meets the kids for some reasons. She even grounds children who did bad stuff.
Michael
A young, gay man who even meets children. He did have work to do. He even likes to groud children who did bad stuff.
Rya
She was a bad bad bad girl
Ryan
The male counterpart of the family who is a male version to Rya.
Skai
A little brother of the family
Alexa
The sister of the family.
Episodes
| Episode Title | Plot |
| --- | --- |
| Boyfriend Quake | TBA |
| Follow that Phony! | TBA |
Ad blocker interference detected!
Wikia is a free-to-use site that makes money from advertising. We have a modified experience for viewers using ad blockers

Wikia is not accessible if you've made further modifications. Remove the custom ad blocker rule(s) and the page will load as expected.