The FunEditor4 (also known as ProjectMaker3, FunEditor4 Studios, FE4Pro112, FunEditorsWorld9944, JediFunEditor4, StarWarsAndCODFan1999, Trekker Pro, and StarWarsFan2015) is a user on GoAnimate. He first joined GoAnimate on May 5th, 2012 with his first Star Trek video, Time Travel Part 1.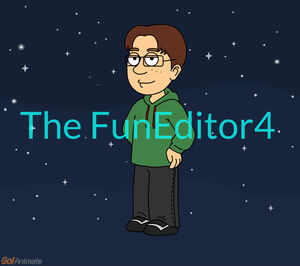 In July/August 2012, he started making grounded videos. The first grounded video he has ever done is "Fred Gets Grounded For Kicking A Stranger." As a result of the birth of his grounded series, he started making more. He even worked on the newer episodes of the Zack series since he's a hardcore fan of the original Zack series. Even though the Zack series from the original creator was created long before FunEditor4 created his Fred series, it's confirmed that the Fred series is set in the exact same timeline and universe as that series. In September 2012, after the takedown of the Star Trek Quogs theme, he decided to work on both the grounded series and the unappreciated Battlefront series to make up for the Star Trek fanimated series.
The Jock Gets Grounded series, which ran from 2012-2015, has been considered to be the longest of FunEditor4's grounded series when it came to his own characters.The longest grounded series overall and the longest grounded series FunEditor4 did was the Zack series from the original creator. with a broken record of over 100 episodes.
The longest video he has ever made was the Star Trek fanimated series episode, "The Alien Intellect", which ran for 25 minutes.
The most popular grounded video that he has ever made was "Eric Misbehaves At Pizza Hut."
He was also best known for the Baxter-Murkekow incident story arc, which was originally introduced in the newer episodes of the Jeremy series from Memy9909.
He left GoAnimate back in October 2015 because of the changes going on at the GoAnimate website, the way louielouie95 is treating the continuity of the original creator's Zack series, Pip2010's unexpected deletion of his grounded videos, and, most importantly, the poor reception of his recent video that was posted on YouTube, "Jock Kills Eraine." That video was later deleted from his GoAnimate channel.
He's going to return to GoAnimate on June 13, 2017. His mission to reupload ALL his videos on YouTube in HD, including some never before seen grounded videos, the original versions of his older grounded videos, and exclusive director's cuts of some of the grounded videos he or other people did. He also has more videos to complete. He has announced the final episodes of the Zack series earlier this month.
List Of Grounded Series He Did
List Of Grounded Series He Cancelled
List Of Grounded Series He's Planning
List Of Grounded Series He Planned But Cancelled Plans To Them
Likes
Making Grounded Videos
Star Wars
Star Trek (Films & TV shows)
DC Comics related TV shows or movies
Marvel related movies
Harry Potter
Alien
Terminator
Battlestar Galactica (1978)
Phantasm
RoboCop
Indiana Jones
Predator
Men In Black
Dislikes
Ruined Grounded Series
Ghostbusters (2016), Legends Of Oz: Dorothy's Return, Superman IV: The Quest For Peace, and any other film that he considers to be bad.
Trivia