Thomas was the main protagonist of the official Thomas Gets Grounded series who is created by caroline0204. He has a girlfriend named Chloe, a younger sister called Suzie, has lots of friends as school, has not been a respected student by the teachers until the series ended, and had abusive parents. Keith, the official school bully, is his arch-nemesis.
NOTE: He used to be a GoAnimate troublemaker between late 2012 and early 2014 before he started to change from one day to the next and since then he had been writen straight A's and B's. Now his parents are nicer towards him, He also used to be a bully in his childhood, but then started to mature slowly.
He used to live in Montpelier, Atlanta, Los Angeles, Geneva, Zürich, Munich, Salzburg, Bordeaux, Genua, Chicago and now lives in Athens, Georgia together with his girlfriend..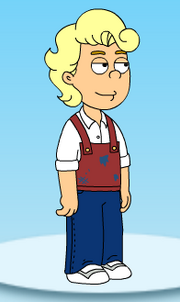 Information
Gender: Male
Hair color: Light Yellow
Age: 14
20 (Current Logical Age)
Occupation:
High School Student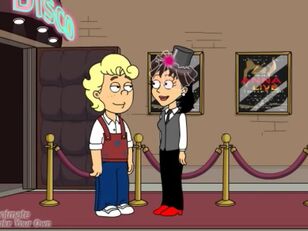 Family: Giancarlo Russo (father, voiced by Diesel, born in 1967)
Emily Russo (mother, voiced by Kimberly, born in 1971 as Emily Berg)
Suzie (sister)
Hometown: Atlanta, Georgia
Voice: Shy Girl (Birth), Kimberly (Birth-Age 6), Brian (Age 7-11), David/Evil Genius/Zack (Age 12-14), Steven (since he's 15)
Ethnicity:
Caucasian-American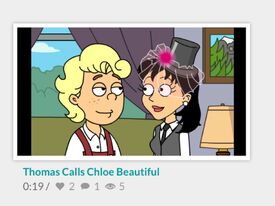 Extra information:
Name: Thomas Giancarlo Russo
Born: August 14, 1995 (Locarno, Kanton Tessin, Switzerland)
Likes: His girlfriend, Looney Tunes, Family Guy, South Park, The Cleveland Show, American Dad, Step by Step, Family Matters, The Simpsons, Futurama, Bob's Burgers, The Temptations (just like his dad) Taylor Swift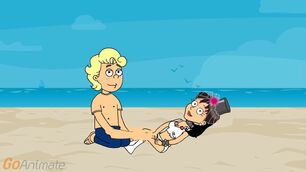 Dislikes: Barney, Baby Shows, Taylor Swift [temporally] Getting Grounded (now it's not that often anymore, since he is being more careful), immature users
Friends: Brian, Eric, Baxter, Princess Denise, Milton
Enemies: Diesel Hamilton, Memy9909, and Keith
Languages he speaks: English, Italian, French and German
Origin
Thomas Giancarlo Russo was born in the Italian part of Switzerland (his father was born in Munich, Germany and grew up in a small village near the Lake Geneva, however, he also has Congolesian roots which explains his skin color), grew up in Atlanta, Georgia and now lives in Los Angeles, California with his girlfriend Chloe.

Trivia
He wears a white buttoned shirt with a collar, a brown apron with buttons and suspenders, blue jeans and white shoes.
His father was born in Switzerland, but Thomas' paternal grandmother is from the Congo and moved to Genua in the early 1970's. His mother however is American, while Thomas' maternal grandfather is from Luxemburg and the maternal grandmother is from Atlanta, Georgia.
He used to be a troublemaker until MCFRSandHCDFRS10000 and LW97 turned him into a hero. Suzie has his old behaviour probably. His grounded series ended in early 2014.
His voice got changed to Steven already in mid 2013 by a user called Carl G, but this video got ignored.