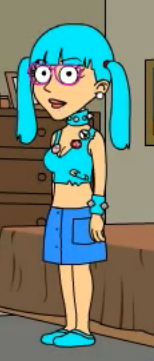 Vexy Smurf is a user who likes to make, watch, and comment on grounded videos made using GoAnimate, She is also a Smurfs fan and features Smurfs characters in her animations that were recently made from GoAnimate. She also has been terminated due to copyright infringement by Elgin Soon AKA Elgin Teh Megaman without any reason, which could turn out to be very dumb reasons. She also created accounts called "TheOfficialBrittneyMiller", "VexyStrikesBack", "Erika Punkette", and "VexySmurf2014." Any bad user who barges at her YouTube channel will be blocked and reported by her. Vexy Smurf will block and flag bad users for YouTube Text Comment Notification, as of 2016, she now gets her new look and becomes a Nanny to many kids and a trainer of all pets.
Personal Info
Real Name: Jade Alonzo
Name: Vexy Smurf or TheTailsGirls Jade
Voice: Ivy
Born: 2002
Age: 15
Likes: making videos on goanimate, watching smurfs 2, watching grounded videos, training pets, babysitting kids
Dislikes: GoAnimate haters, Harry Partridge, 
Daughter: Kumi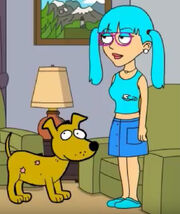 Ad blocker interference detected!
Wikia is a free-to-use site that makes money from advertising. We have a modified experience for viewers using ad blockers

Wikia is not accessible if you've made further modifications. Remove the custom ad blocker rule(s) and the page will load as expected.