Vince Tolentino Matias is a mature user (outside U.S.A.) who makes grounded videos out of bad characters and baby show characters (with the exception of shows created by PBS, BBC, and Disney).
Link to his YouTube channel: https://www.youtube.com/channel/UC2zyuvRBR-ahB_kyspwztEA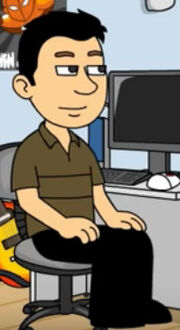 Likes: Barney and Friends, Caillou, Teletubbies, The Berenstain Bears, Arthur Jake and the Neverland Pirates, Doc McStuffins, Mickey Mouse Clubhouse, Sesame Street , Play with Me Sesame, The Furchester Hotel (CBeebies/CBBC), Elmo's World, Strawberry Shortcake, HI-5, Cyberchase, Lilo & Stitch, Finding Nemo, Monsters, Inc. (2001), Cinderella (1950/2002/2007/2015), Snow White and the Seven Dwarfs (1937), Peter Pan (1953/2002), Sleeping Beauty (1959), 101 Dalmatians, Good users, dating, startups and closedowns (mostly with national anthems), Pocoyo, The Bear inthe Big Blue House, Sofia the First, Puzzle Place, Regular Show (Cartoon Network), Minecraft, Plants vs. Zombies, Pinoy Henyo, Zombie Tsunami, Temple Run, Subway Surfers, Deal or No Deal, Scrabble, Bingo, Basketball, Soccer, Billiards, Bowling, Wheel of Fortune, Family Guy, American Dad, Finding Dory (2016), My Friends Tigger & Pooh, Little Einsteins, Sid the Science Kid, some Filipino movies (e.g. Everything About Her (2016)), and users who respect his opinion.
Dislikes: Dora the Explorer, Peppa Pig, Blues Clues, Spongebob Squarepants, Red Boris, Evil Diesel Busters, Warren Cook, Rosie (GoAnimate only), Nathan Pearson, Melissa Indes, Irish Andres, David Vendes, Karla Sonnazon, Rico Maglinte, Pamela Castro, Edrose Fanales, Sheila & Katie Morales, Althea Andrea, My Little Pony, Winx Club, immature users, swearing, Disney villains, users who do not respect his opinions.
Ad blocker interference detected!
Wikia is a free-to-use site that makes money from advertising. We have a modified experience for viewers using ad blockers

Wikia is not accessible if you've made further modifications. Remove the custom ad blocker rule(s) and the page will load as expected.