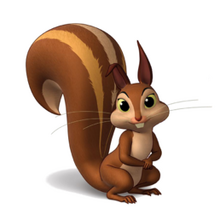 Whatnaught is a brown squirrel owned by Sofia The First,He dosen't speak on the Goanimate series, he only chatters.
He was born on January 6, 2001.
And he lives with other pets named Robin,Mia,Clover,Whiskers,Ginger,Hexie,Lulu,Winter,Wormwood ,Crackle and Minimus.
And he is also a cameo that Robin and Mia woke the squirrel up in Brother Bear.
Ad blocker interference detected!
Wikia is a free-to-use site that makes money from advertising. We have a modified experience for viewers using ad blockers

Wikia is not accessible if you've made further modifications. Remove the custom ad blocker rule(s) and the page will load as expected.