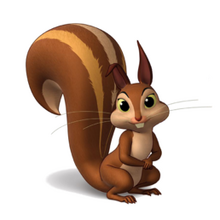 Whatnaught is a brown squirrel owned by Sofia The First,He dosen't speak on the Goanimate series, he only chatters.
He was born on January 6, 2001.
And he lives with other pets named Robin,Mia,Clover,Whiskers,Ginger,Hexie,Lulu,Winter,Wormwood ,Crackle and Minimus.
And he is also a cameo that Robin and Mia woke the squirrel up in Brother Bear.