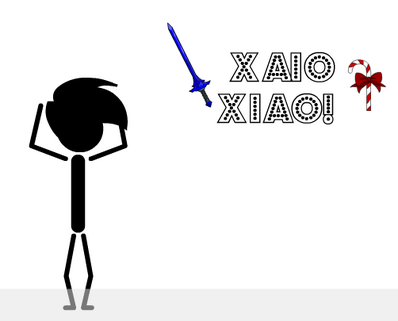 Xaio Xaio! is a Anime Stickfigure goanimate series with the main character Xaio Xaio with his Old Girlfriend or friend Miao go through some events its sometimes drama but its funny.
Season 1
Episode 1: Beach Drama
Episode 2: Roller-coaster Frenzy
Episode 3: Miku Rolled
Episode 4: Xaio meets Tropical Kiss
Episode 5: Xaio's Twin
Episode 6: Jingle Crazy
Episode 7: Viper/Harmony/Shy (V/H/S)
Episode 8: Not So Scary
Episode 9: Xaio Xaio! and Kiavio Kiavio! crossover
Ad blocker interference detected!
Wikia is a free-to-use site that makes money from advertising. We have a modified experience for viewers using ad blockers

Wikia is not accessible if you've made further modifications. Remove the custom ad blocker rule(s) and the page will load as expected.