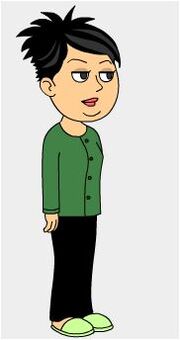 Yumio Reginaldin is a baby show lover voiced by Catherine and the daughter of Lucy Reginaldin, sister of Emma and Deante Reginaldin, wife of
Zack Reginaldin
, and the mother of
Denric Reginaldin
.

Age: 43
Date of Birth: May 17, 1968
Zodiac Sign: Cancer
Voice: Catherine (rhianna's version), Kimberly (caroline0204, Guyisbackable and MarioParty4To7RulesAlt's version)
Favorite Color: Purple, Pink, Dark Green, Hot Pink, Golden Yellow
Favorite Food: Pot Roast
Favorite Movie: Dolphin Tale, Barney's Great Adventure
Favorite TV Shows: Barney and Friends, Thomas the Tank Engine, Jake and The Neverland Pirates, Teletubbies, Rugrats, Dora the Explorer, Daniel Tiger's Neighborhood, VeggieTales, Gravity Falls, Fish Hooks, Good Luck Charlie, Shake it Up, Jessie, Other Baby Shows, Phineas & Ferb (after her son hates it)
Favorite Animal: Snakes, Orcas
Favorite School Subject: Art
Least Favorite School Subject: Unknown
Likes: The truth, when her son obeys, Baby Shows
Dislikes: Lies, when her son does something bad
Ad blocker interference detected!
Wikia is a free-to-use site that makes money from advertising. We have a modified experience for viewers using ad blockers

Wikia is not accessible if you've made further modifications. Remove the custom ad blocker rule(s) and the page will load as expected.